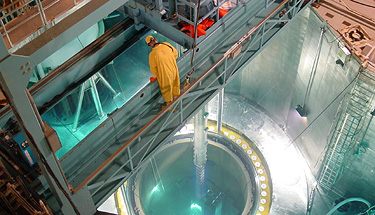 In this photograph, a nuclear fuel assembly is being lowered into Millstone's reactor core. A curie is a widely used standard measure of radioactivity. The actual and projected monthly curies shown in the graph above take into consideration radioactive contributions from all four categories of airborne effluents from Millstone (fission and activation gases, particulates, iodine and tritium) that are released both continuously and in batches. The projected values are estimates based on previous experience and known scheduled activities.
During an outage, Millstone performs a scheduled shut down of one of its nuclear reactors for refueling and plant maintenance projects. Nuclear reactors require refueling on average about once every year and a half.
Airborne effluents discharged to the atmosphere are constantly monitored, sampled and analyzed to make sure radioactivity levels are below release limits. In addition, an environmental sampling program serves as a second, independent backup check system to verify the effectiveness of Millstone's effluent monitoring program.
Environmental samples regularly collected include air, soil, goat milk, pasture grass, hay, well water, broadleaf vegetation, fruits and vegetables. The details of this program are published in the station's Annual Radiological Environmental Operating Report.
Additional information regarding the operation and environmental impact of nuclear power plants is available from the Nuclear Energy Institute at www.nei.org.