Dominion Energy is a safe, world-class nuclear operator, and as part of its strategy to ensure adequate, reliable electricity for the future, the company is taking steps toward constructing a third nuclear generating unit adjacent to its existing two nuclear units at its North Anna Power Station in Louisa County, VA. We have not committed to build the new unit, but want to maintain the option to do so to meet projected skyrocketing demand for electricity in Virginia.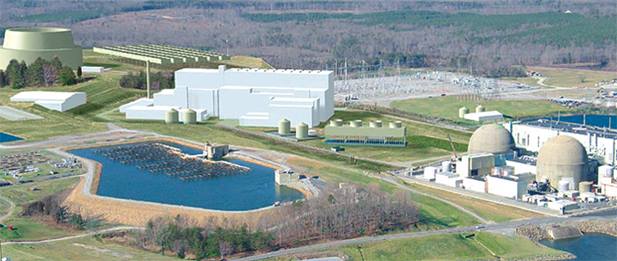 (Above: North Anna Aerial Site Illustration)
We have selected GE Hitachi's ESBWR nuclear technology, and GE Hitachi has teamed with Fluor, a global construction company, for its proposed Unit 3 at North Anna.
We have submitted a Combined Operating License (COL) application to the Nuclear Regulatory Commission (NRC) on Nov. 27, 2007. If approved, the COL will give the company permission to build and operate North Anna 3. Approval from the Virginia State Corporation Commission will also be necessary.
The NRC authorized its Office of New Reactors to issue an Early Site Permit (ESP) to Dominion Energy Nuclear North Anna, LLC on Nov. 20, 2007, for the North Anna ESP site near Louisa, VA - meaning the NRC has determined that the North Anna site is suitable for an additional reactor. We applied for the ESP in 2003. View the North Anna ESP.
An Instream Flow Incremental Methodology (IFIM) study was completed as a condition of the Nuclear Regulatory Commission's Early Site Permit and Virginia's Coastal Consistency Certification. The study examines river flows and changes in habitat in the North Anna River under existing conditions and under proposed conditions with a new Unit 3. View the North Anna Unit 3 IFIM Report.